Midsummer Ride & Social
(Formerly the 30/40/Half-Century & Barbeque)
Saturday, August 12, 2017
First, ride at 9:30 AM:
Bear Notch Loop clockwise for 42 miles.
Shorter versions turn around at the Albany Covered Bidge, Rocky George or Bear Notch Road.
All start promptly at 9:30AM from the Eastern Slopes Inn lower rear parking area.
Then, party at 4:00 PM
An outdoor party will begin at Tod and Barbara's Powers home
47 Oxbow Lane Conway.
It's in the Swift River Valley neighborhood, across from Frechette Tire on Passaconaway Rd. ​

Everyone is welcome, as long as you RSVP by August 6 to midsummersocial@mwvbicyclingclub.org

Tod needs to confirm the number of guests- the main course is being catered by Brandli's Italian Restaurant.
Eggplant Parmigiana will be available for those who prefer vegetarian.

Bring: A potluck item as follows:
Last name beginning with A-O: Bring an appetizer to share.
Last name beginning with P-Z: Bring a dessert to share.
Also bring a chair/seating, beer or wine,
Rain date will be Saturday, August 26th. If cancellation of the 12th is required, an email will be sent out by Friday evening and will be posted on the website.
See you on Saturday, August 12!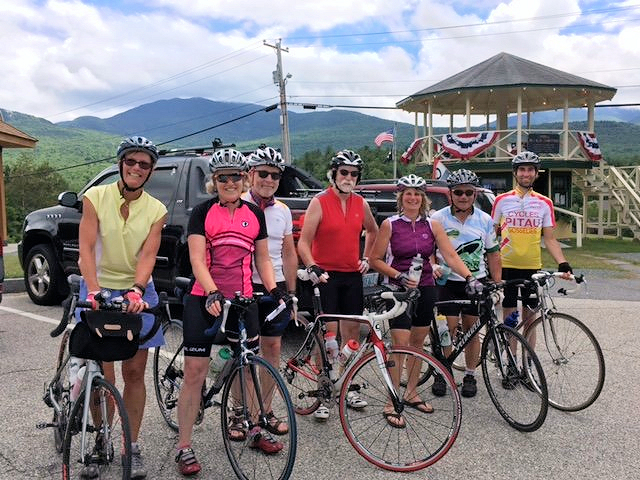 For more information contact: Tod Powers
by email at: midsummersocial@mwvbicyclingclub.org